Discover more from Margins by Ranjan Roy and Can Duruk
The technology of business and the business of technology, by Ranjan Roy and Can Duruk.
Over 35,000 subscribers
Hi! Can here. Today, we talk about fads, trends, and everything in between.
I don't talk about my work at Felt often on Margins but today marks a big day for us. Finally, we are removing our beta label and launching our 1.0 version. For those in the back, Felt is the best way to work with maps on the internet. I've written about why Felt needs to exist before, and things gotten even more dire since then.
But it's not just our 1.0 launch today — March 2023 loosely marks the 2-year anniversary of Felt. So I thought it would be interesting to go through some of the fads / innovations / grifts that have come Felt's way, one way or another, and talk about how I've personally thought about them. And just as I was writing this piece, I saw this amazing tweet by Tim Wu. Perfect way to write a piece! So, let's go.
Metaverse
I love the metaverse. Or is it The Metaverse? Truth be told, I have spent a total of 20 minutes in the metaverse wearing a friend's Quest 2 headset. And of that 20 minutes, most of it was spent in the black-and-white see-through mode where you paint the safe zone in your room. Not even a game, and definitely not some magical universe. So, I don't know much about VR, but AR is truly amazing! God knows how I'd have felt if Zuck had shown up with his dead eyes.
The main reason the metaverse has been good for Felt is how no one seems to like it other than Zuckerberg himself. In the past 2 years, I have talked to more people wanting to leave Facebook and pointing to Metaverse's general mediocrity and how top-down it's been than any other reason since I've been in the tech industry.
Long-time readers know that a big chunk of my online persona is built around hating Facebok, but I have also long admired the Zuckerberg's ability to build a cult-like following among his wildly-talented yet morally-lost employees. Things have been going in the opposite direction in the Ideological Compliance department since Trump, sure, but the Metaverse seems to have uniquely broken the company's spirits. Anything that makes Facebook engineers easier to recruit is a good thing in my book.
Not that I think the idea of metaverse is dead. There's something there. As I mentioned, the see-through functionality of the old Quest headset was compelling. Some games like Beat Saber are actually fun. And yet while VR is sweaty and gross as well being antisocial, a good AR experience can at least make it less awkward. Someone is going to make it work. I just don't think it's going to be Meta.
And really, on a more dystopian note, it seems like if someone found a way to actually overlay personalized ads on the last few photons that don't originate from screens, it'd be a worthwhile investment. I think it'd suck, but someone will find a way to make a ton of people strap them on. God, I hate adtech.
Number of people who aren't Zuckerberg who like the Metaverse: Less than 100
Number of people who are Zuckerberg: ??
Fad or Trend: Fad — but good for Felt
Crypto

This is an easy one — I don't get crypto. I have written a lot of words on it before, and most things have become stupider since then. But some things also gotten better; SBF is in handcuffs and being a crypto-skeptic does not immediately make you a persona non grata in the upper echelons of the technorati. Good thing Sequoia didn't put their unhinged SBF hagiography on the blockchain since they already scrubbed it. Some people even removed .eth's from their Twitter usernames and they no longer lead conversations with how they too were an angel in Coinbase. Nature is healing. No one has asked for a FeltCoin.
NFTs, though, had become a talking point a few times. Since Felt allows you to make maps and share them, and our maps actually look like something you'd want to share, some have asked us about our NFT strategy. We don't have one. Just like we don't have a Mars strategy or a post-Zombie-apocalypse strategy. The good thing is since I have been pretty open about where I stand on all things crypto, I would simply grumble and roll my eyes and people get the message when this happens.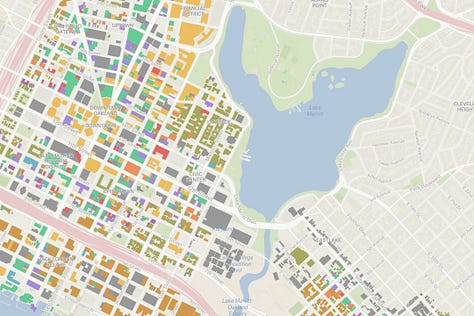 As I've said before, I have tried to like crypto more than a few times. The math is fascinating on its merits and anyone who's interacted with the American financial system would be hard-pressed not to want to throw it all out and build it again, with better computers this time. Most importantly, I genuinely love the optimism of the entire scene; it warms my crotchety Turkish heart.
But I don't see it becoming a thing. I keep an eye on a few projects like Blur and Solana and occasionally read their blog posts. They seem interesting, and maybe at some point the crypto industry will cross the chasm into the real world but so far, it feels like an ecosystem held up by an infusion of cash versus building anything of value. Felt is safe from crypto, and crypto is safe from Felt until further notice.
Number of words in Sequoia's SBF memo: 13000
Number of words in Antoine de Saint-Exupéry's Petit Prince: 15000
Fad or Trend: Fad — Felt doesn't care
"A. I."
Look, there's no way to not be amazed by the work of OpenAI. Again, Margin fans know that Ranjan and I are often accused of being pessimists and seeing the bad in everything, but I love these newfangled generative AI tools. Maybe it's that every time I post on Margins, I get a few emails about how there are so many typos and errors, and yet the god-damn ChatGPT never makes one. Or that it simply works, but even its creators cannot really make head or tails of why and how?
There's a lot of bad in it, for sure. I have yet to make up my mind on whether the generative AI tools are essentially plagiarizing other people's content without attribution, or that they are ideologically biased way or another. For starters, I think the entire industry would benefit from way more transparency. For example, we still don't know exactly what GPT-3 or its successor GPT-4 is trained on.
But the bottom line is that this stuff works. People are already using ChatGPT with Felt. In fact, I have used OpenAI's API a few times before ChatGPT came along to clean up some data. I gave the OpenAI Playground a list of country names and asked it to make a table with their ISO codes and it did. I could have written a script to do it, but I didn't have to. In fact, two of the country names I put in had typos in it (see a pattern?) but the robot didn't even budge. It. Just. Worked. What?
And I'm not even counting how half our engineers already use Github Copilot, which is powered by OpenAI, or how many times someone at work asked ChatGPT a technical question and was surprised by the answer. It just literally happened, once again, today. It's there. My company's product is already, somewhat, OpenAI-powered.
My real fear with the AI stuff isn't really the AGI taking over the world, but the companies building them doing so. The amount of capital required to both build and maintain systems is so large that this stuff will become monopolized faster than we can imagine. OpenAI started as a non-profit, but they soon realized the only way to build what they wanted was to sell half the company to Microsoft, the world's largest company. And, sure, Google and Facebook have their own competing models, which they can build because they are respectively the 4th and the 11th largest companies on the planet.
What's a company like mine supposed to do? Productivity gains are a good thing, and the neoliberal in me wants to be excited, but what's the end game here for the rest of us? I don't have to think about that today, and I'll happily use whatever API gets me to product-market fit faster. But the light at the end of the tunnel might very well be a freight train coming my way.
Microsoft's Investment in OpenAI: $10B
Likelihood of AGI Killing us All: Greater than 0%, less than 100%
Fad or Trend: Trend — Good so far, until it kills us all
---
The real takeaway from the last 2 years of building Felt has been that most things that happen outside of Felt doesn't matter. Trends come and go. Most fads disappear. Grifters grift, and hustlers hustle. We keep on chugging away more-or-less the same roadmap Sam and I wrote two years ago.
I am under no impression that Felt is successful, yet. But one thing we are good at is going fast, iterating quickly and maintaining a high quality bar. And I think a big reason we can do that is that we don't allow ourselves to be (too) distracted. That requires an incredible amount of effort.
I always thought, naively, that focus came for free but it wasn't obvious to me early on how not doing things you never said you'd do is something that requires work. Being still is not being passive. Being still, staying focused is another form of being active, and that requires disciplined effort.
I joke here and there but when the entire ecosystem is around you is talking about how VR is going to change the world one day, and then every engineer you want to hire is now working at a crypto company and is into Rust, and all of a sudden the world stops because ChatGPT came on — it's hard to turn Twitter off and log off HN and ignore wide-eyed VCs. It's not just the day to day distraction but maintaining that belief we need to work on what we work because it's more important than anything else — that's hard. And that requires effort.
But we do it! Now, go, tell your friends about Felt.